The gist: The KonMari method is more than a way to organize your house. It's a new way of looking at priorities and clearing mental clutter.
Are you ready to talk about what sparks joy? ✨
This post & video are for my friends who binge watched Tidying Up as quickly as I did. (I finished the episodes twice already and I'm not even sorry about it.)
Today we're talking about how to take the KonMari mindset past your dresser drawers, and into your life and business.
Because for most of us, those two things could stand to be a little brighter and more joyful. 🌈
(Some of these links are affiliate links. So if you decide to buy anything, I'll receive a commission. Most creators say something like "100% of this goes back into the business," but I'm not most creators. Some months it goes into the business, others it will be used to buy inappropriate amounts of chocolate. Remember, working brighter is about balance!)
About Marie Kondo & KonMari
If you're unfamiliar with Marie Kondo's actual work, let's start here. And if you're only familiar with the memes *about* her work, we've got a lot of re-education to do. 🙃
So Marie Kondo was a professional organizing consultant turned CEO and teacher. Just like a lot of the entrepreneurs who might be reading this. She followed the same path to scaling up a lot of us are.
She used her first book, The Life-Changing Magic Art of Tidying Up, to scale teaching her organizing method beyond her clients.
When the book first came out, it got incredibly popular on Pinterest and stuff, her brand and business have skyrocketed. Now instead of her taking on clients herself, she runs the business producing all this and training KonMari certified professionals.
Anyway, entrepreneurship fangirling over…
The book came out in the U.S. in 2014. And to my Type A delight, KonMari Method has been taking over ever since. 🤓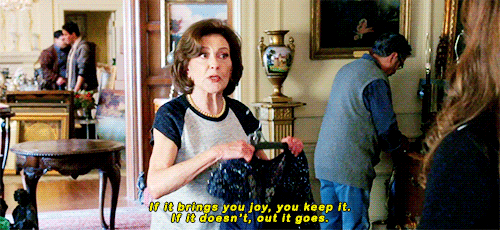 The premise of the book and method is considering each item you own and asking, "does it spark joy?"
You essentially declutter things around you to only what makes you happy.
So it's about decluttering and organizing, but because of that "spark joy" bit, it's also about so much more.
And because of that "so much more," I realized…
KonMari isn't just an organizational tool. It's a mindset tool. 🤓
KonMari is a Mindset and Manifesting Tool
You can use it in your business, in your relationships, etc.
It's a mindset that you can apply to anything.
I like to say that KonMari is a process to help prioritize what does and doesn't matter to you. Then, you can get rid of the stuff that doesn't matter to make more room for the stuff that does.
And as a follower of the KonMari method, I can tell you:
KonMari spreads to areas besides your home
Once you start adopting KonMari in your house or office, it starts to seep into other areas of your life.
For example, I read the book in 2015.
In 2016, I got rid of all the clutter in my house and moved onto the rest of my life.
Then 2017 was a phenomenal year of decluttering where I decluttered my day job (more on this later). That's literally how I looked at it at the time.
By now, I've applied the KonMari mindset to almost every area of my life. It's changed the way I think about everything.
KonMari teaches you that decluttering is less about getting rid of things and more about making space for things that matter.
This is where I think that it's relevant to conversations about manifesting. Because that stuff teaches you how important it is to make space for what you want in life.
For example, having post-its ready during launches to write down the names of your students on.
All of those things are based on the idea of making space for what you want.
Because if you don't have room, where's it gonna go? 🤔
Where that especially became clear to me in my own decluttering journey was with my book situation.
(Which we'll talk more about in a sec.)
At the end of the day, KonMari is what got me to understand making space for things that you want.
How I've Used the KonMari Method to Clear Mental Clutter, Bad Business, and More Mindset Messes
So let's talk about some of the specific ways I've applied the KonMari method to things other than my household clutter.
1. Decluttering bad freelance clients
First, I fired clients that don't treat me well enough to "spark joy." And the next month, I launched a new product with the time that it freed up to work on my own business.
I know this was a bit of a big leap, which I infamously don't believe in, but it was a strategic one.
I had an idea, and people were ready to buy it. But the sole thing keeping me from launching it was how much time and creative energy I was spending on client work.
But I had half a dozen clients, and only half of them were giving me work that was both fulfilling and well-paid.
So in July 2018, I fired two clients.
And in August I welcomed the first 10 members into the beta version of the Work Brighter Clubhouse. It would not have happened if I hadn't "decluttered my clients."
As a recovering workaholic, used to piling as much on my plate as possible, this approach to business was new.
Normally, I would have tried to replace the income coming from a client before I let them go. Not said, "I'm going to let them go to give myself the time to launch a product that will replace the income."
But I was tired of saying "I'll rest later," only for later to never come.
 

 

View this post on Instagram

 

 
It was this change of thinking that helped me realize that in order to take on new projects, I need to let go of what does not work and what does not spark joy.
2. Rebuilding my book collection
First, a bookish tangent…
Also, let's talk about the whole KonMari book thing, because book nerds are angry at Marie Kondo. But coming from a fellow book nerd, they don't have the whole story.
Basically, in an interview, she said she had 30 books, but never claimed that as a rule. Marie Kondo is all about getting rid of things that don't bring you joy.
That might be a book that you bought and read but didn't like. Or one that you've since lost interest in and decided never to read. Those are okay to declutter with KonMari.
If someone told me you should only have a few books, I'd get angry too. But that's not what she's about.
If you watched Marie's show, she lets people keep SO much. Someone keeps a whole garage full of Christmas decorations, and Marie's fine with that. Because that was what made them happy, and that's what KonMari is about.
Not having 30 books or 30 Christmas decorations.
 

 

View this post on Instagram

 

 
Now, back to me.
When I first read the KonMari book, I was a book blogger and reviewer.
So I was reading multiple books per week, along with receiving a ton of unsolicited books from authors and publishers and stuff. I was receiving like, 3 new physical books per week. Ones that I did not ask for, that I did not have time to read, that I was not very interested in.
I had literally an entire ceiling-high bookshelf of free books that I didn't read, but was keeping because I identify as a book nerd. And I felt weird being a bookworm who got rid of books.
But once I started going through KonMari and decluttering the apartment, I gave away all the books I didn't see myself reading again.
It created so much space in my apartment that I had a blank bookshelf to fill with new books to read AND build a whole work nook in the corner of my living room.
It created so much space that I was able to move in a whole desk I'm writing this from now.
I had wanted to have a dedicated area in the apartment for working for years. We've been in this apartment for about 4 years now. And I had always just worked on the couch in the same place we eat, the same place we watch TV, the same place we do everything.
And it wasn't until I was able to say goodbye to all these books that I didn't read and that did not spark joy, that I was able to have this desk.
There are still two bookshelves left, so it's not like I only kept 30. I have well over a hundred. But the KonMari mindset helped me define what I wanted in my apartment, and declutter everything else.
3. Decluttering my day job to make recovery my full-time focus
Like I said before, when I talk about my health stuff in 2017, I like to say decluttered my day job. That effectively made my freelancing my full-time job, and self-care my side hustle.
 

 

View this post on Instagram

 

 
At the time, I was really sick, my chronic illnesses in a two-year flare-up.
Slowly, I started to understand I wasn't coming out of it because I consistently was not taking care of my health enough.
And that to do the recovering I needed to, I had to change the way my career was set up.
I kept saying that I didn't have time for the treatments, appointments, and healing I needed to do. And I kept using that as an excuse to not get healthy and when of my priorities shifted.
But once I realized that my health needed to be my priority, I decided to make space for that however I could. And given how much I was earning from my business at the time, I didn't need my day job other than for help with health insurance. But the work-enhanced flare-up and burnout were the reason I had such high medical bills that I needed insurance for in the first place.
So I slowly realized that as much as I loved it, it no longer sparked joy.
Other Ways I've KonMari'd My Life
I cancel software that I don't use, instead of continuing to pay the monthly fee. Every time I have a software decluttering session, I end up saving thousands of dollars in monthly recurring expenses.
I'm constantly unfollowing people on social media that don't make me feel good about myself. If it's someone I know personally but I don't vibe with their social media persona, I put them on "mute."
It's helped me ditch marketing tactics that don't work. I've let go of Facebook page marketing, and using Instagram for my other business. In both cases, it was something I tried but didn't enjoy or get good enough results from to continue.
I've retired products that don't fit into the overall goals for my business anymore. This made space on my website and in my navigation bar to promote new products, instead of ones that weren't as relevant anymore.
Once I read the book, I looked at decluttering and getting rid of things and manifesting in a whole new way.
It helps you really simplify your life. And your work. Then your to-do list. Then your house. After that, your computer.
Everything!
So that you are surrounded by things that make you happy and so that you have space for more things that make you happy.
Ignore the KonMari Memes
I know, is Bberg really saying to ignore memes?!
It's not that some of them aren't funny. They are. But most of them are way misinformed.
And so I just wanted to throw my perspective and my own story into things, since this is something that I have been doing for awhile now.
Get the Work Brighter Decluttering Challenge
If you're interested in going on a decluttering spree, I have a decluttering challenge in the Clubhouse, my monthly membership to help you work brighter.
You can also grab it on its own in the shop.
We go through decluttering your computer, which I like to call KonMari for your MacBook (go with it even if you don't use a MacBook 😉). It also includes decluttering your social media, your workspace, and more.
And if you liked this post, you might also like:
But wait! Before you go, pin this post: