The gist: now is a time to watch comfort TV and not feel bad about it. And these shows are the best of the subgenre.
As a recovering workaholic with chronic physical and mental illness, TV is an important tool in my productivity and self-care toolkit. 📺
Like I've mentioned many times (like here, here, here, and here), I use TV both as background noise when I'm working, and as a relaxation tool when I'm not.
TV – sitcoms in particular – has always been something I've loved, so any version of productivity and success for me, includes it.
I know what the productivity gurus say…
"If you cut out all TV, you'd have reached all your goals by now #RiseAndGrind."
"If you're not a millionaire but subscribe to Netflix, you can't complain #NoExcuses"
First of all, watching TV IS a goal of mine, thank you very much. And second of all, Netflix is $11.99, calm down, Karen. 💁🏻‍♀️
I have a whole series of posts in me on intentional TV watching, but today I want to talk about one specific aspect of it: comfort TV.
The reason I love TV is because you can use it to control your mood and mindset.
Wanna be happy? Watch something happy.
Wanna get amped up? Watch something dramatic, suspenseful, or action-packed.
Wanna smile and laugh? Watch something funny.
And productivity gurus DO say that mindset matters, right? Well, 30 minutes of the right show can drastically change yours. 😉
Comfort TV Watching During COVID-19
Take the time of writing this, for example. We're a few weeks into COVID-19 being a big problem here in the US, to the point that most people who can are working remotely.
So not only are people home way more than usual, but they're also way more stress out and anxious than usual.
Enter…TV as a mood booster.
Whether you're using it as background noise as you work from home, something to entertain the kids during screen time, or a way to relax because you can't stop thinking about the pandemic, the right show can help or hurt that.
And I have a bit of experience in bingewatching to distract myself from health concerns and increased anxiety, for better or for worse.
There've been lots of jokes about how remote workers, introverts, online entrepreneurs, and more have been preparing their whole lives for this. But for me, it goes beyond that.
Between all my ankle surgeries, other injuries, and stomach flare-ups, I've gone weeks without leaving the apartment to protect/respect my health more times than I can count.
That's added up to a LOT of books read, movies watched, and TV series binged. Particularly ones that pull me into their happy world and make me forget the overwhelming one around me.
And finally that time spent is coming in handy. 🤣
Because I'm VERY familiiar with the…genre?…of comfort TV. And now I have recommendations.
The Best TV Shows For When You're Stuck Inside AND Very Anxious
Most of these are sitcoms, some of them are not. Many are kid-friendly, many are not. Use your own descretion depending on your bingewatching use case and/or co-bingers. 😀
Friends and The Office aren't on them.
Not because they're not great, but because they're the default, go-to bingewatches. So know about them already and likely have either watched them or haven't watched them for a reason. 🙃
Also, and VERY importantly, a show's ranking on this list says nothing about how much I love it. I love all my babies equally.
1. The Good Place
(Seasons 1-3 available on Netflix US, Season 4 available on Hulu US)
I mean…I don't know how to talk about The Good Place in anything less than a dedicated essay. It's wildly ridiculous yet ridiculously smart, and truly the only show of its kind.
When I first started watching it, it was during a flare-up when the show was in season 1. Literally the second I finished the last episode (THE LEGENDARY TWIST!), once I finished screaming I mean, I started rewatching it.
Now it's one of my go-to background noise shows for when I'm doing things around the apartment or falling asleep.
Ted Danson, moral philosophy, tons of puns, and Mike Shur wit…what more could you ask for?
2. Parks and Recreation
(Available on Netflix US)
While we're on the topic of Mike Schur wit, let's talk about the show that first introduced me to it, and my first real Type A role model, Parks and Rec.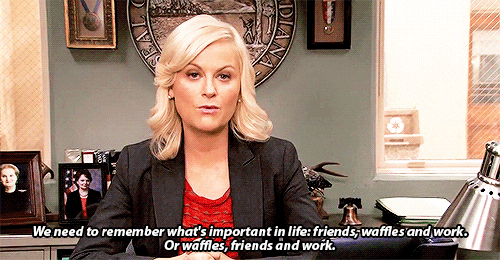 This was actually the show I immediately felt the need to start rewatching when I realized I had to self-isolate for COVID, for what it's worth. ¯\(ツ)/¯
Leslie Knope's optimism, Pawnee's (sometimes too realistic) dysfunction, and the way all the different members of the Parks team fit together like such a perfect puzzle, can lift anyone's mood.
Also, waffles.
Related: 9 Reasons Leslie Knope Would Make a Fantastic Entrepreneur
3. Brooklyn 99
(Available on Hulu US)
Alright, last Mike Schur show on this list, I promise.
Unlike the first two, this one can actually get pretty real and heavy sometimes. But that's WELL balanced out by absolutely out-of-this-world stuff like the Jimmy Jab Games and Halloween Heists.
Any episode relating to a prank is a perfect distraction, and this show has so many of them. Plus, ANOTHER main type A role model, Amy Santiago. 🤓
4. Schitt's Creek
(Available on Netflix US)
Schitt's Creek is one of the shows that I don't really know how to describe other than "joy." I am truly ashamed of how long I slept on it (it's not a great name), but within a year of doing so I had already attended a live panel show with the cast.
Eugene Levy and Catherine O'Hara are truly legends, the rest of the cast are newly realized gems, and the sarcasm is so so silly.
If you start watching it, give it a few episodes. It takes that long to "find its footing." I've had several friends start watching and say it's too loud and cringey, but it gets WAY less so. 😝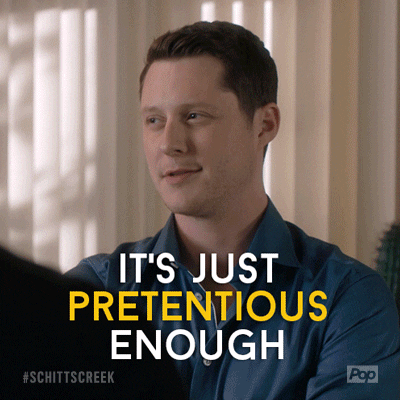 Also, for my business friends, entrepreneurship is a huge part of the show. The Rose family is entrepreneurial at heart, with multiple family members starting business ventures and offering hilarious commentary on things like branding and marketing.
5. Bunheads
(Available on Hulu US)
Sure, you've already binged Gilmore Girls as many times as a human can, but have you discovered the joy of Amy Sherman Palladino's other shows too? 🙃
As a dancer, I loved Bunheads and seeing a group of friends who "lived at the studio" together.
Plus, it has just as much Sutton Foster but a lot less emotional turmoil than Younger (said turmoil is why I wouldn't categorize it as "comfort TV," but I do love that show).
6. The Mindy Project
(Available on Hulu US)
Dr. Mindy Lahiri was a welcome disruption for me in the "women trying to have it all" sitcoms. And she's still welcome.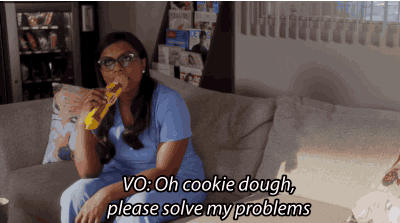 Online entrepreneurs talk about embracing imperfection like it's a new trend invented by Instagram influencers, but Mindy never pretended to be anything but perfect.
7. Nailed It
(Available on Netflix)
Nicole Byer, baked goods, and Pinterest fails.
I could say so much more, but I literally don't need to.
Oh, and Wes. I would like to add something about Wes.
8. Great British Bake Off
(Available on Netflix)
How could I talk about baking bingewatches without talking about my gateway binge, GBBO?
Everything about Great British Bake-Off screams "comfort." The music. The English countryside. The baked goods. The accents. The lack of fighting.
And, most gloriously, the KitchenAid Stand Mixers. (It will be mine. Oh yes. It will be mine.)
9. 30 Rock
(Available on Hulu US)
You want to go to there. To the show with some of the funniest commentary on the expectation that modern women are supposed to "have it all" and "do it all."
This show is so rewatchable and quotable that it's perfect for dipping into and out of while you do work or chores around the house. No matter where you start paying attention again, you'll be laughing out loud in a few seconds. This is why I love shows with sky high joke densities.
Plus, when you're staying inside, Liz Lemon's great company: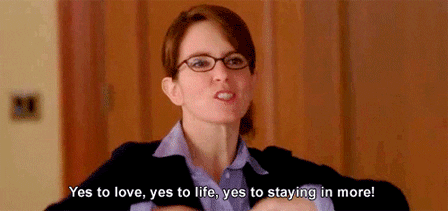 10. Grace and Frankie
(Available on Netflix)
Like Schitt's Creek, the best way I can describe this show is "joy."
And like that show, it's both ridiculous and outrageous in premise, yet realistic and grounded in emotion. They also show begrudgingly close families dealing with something they never imagined, and have a cast of actors that make their reactions hilarious.
This show can get deep, but when I'm in "comfort TV" mode, I skip over those episodes and focus on the ones where Grace and Frankie are dancing on bars, yelling at their families about sex positivity, or both throw their back outs and get stuck fighting on the floor all day.
Even Pete Davidson, Paul Rudd, and DJ Khaled know how great the show is.
11. Broad City
(Available on Hulu US)
This show speaks to my millennial, Jewish, liberal, New York City-livin, pop culture-lovin heart. I saw myself so much in Ilana and Abbi that when I heard part of the reason for it ending was that a phase of their life was endings, I was propelled into a third-life crisis. (I needed to add something between my quarter-life crisis and my midlife crisis and it's fine, okay?)
12. I Love Lucy
(Available on Hulu US)
I Love Lucy was one of the first sitcoms I ever started watching, with my grandparents when I would go to their house (which was a lot). Then in middle school, Lucille Ball was the subject of like three different projects where I had to choose and research a woman in history.
Y'all, do you realize how huge her legacy is?!
She was the first woman to head a TV production studio, pushed for the depiction of one of TV's first interracial couples and TV's first pregnancy, is one of the greatest masters of physical comedy, and this show was the first to be filmed in front of a live studio audience?
Plus, it's just HILARIOUS.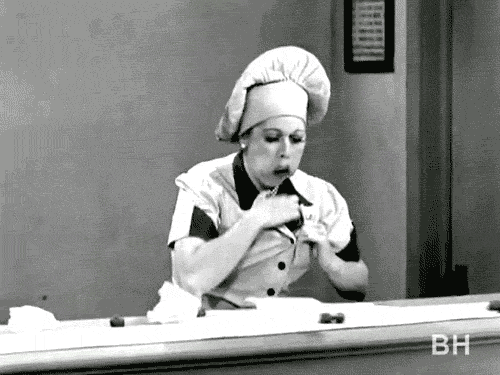 13. Golden Girls
(Available on Hulu US)
While we're on shows I used to watch with my grandparents, we need to talk about Golden Girls. Hilarious and timeless, each of the main characters is so different that there's someone for everyone.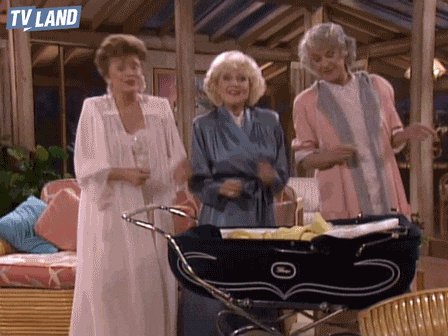 14. Unbreakable Kimmy Schmidt
(Available on Netflix)
Being under social distancing, self-isolating, and quarantining, seems like a darkly appropriate to bingewatch a show about a woman who grew up in a bunker. Doesn't it?
Kimmy's excitement over going outside and using public bathrooms will be ALL OF US when social distancing is over.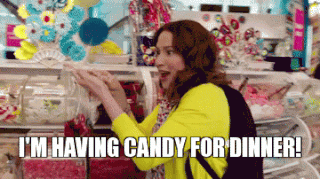 This show is ridiculous in ways only a Tina Fey show can be, has an amazing supporting cast in Titus Burgess (whose Peenot Noir I have a bottle of, even though I can't drink), Carol Kane, and Jane Krakowski.
Plus, it premiered right when Alex and I were moving to NYC, so the jokes about the city hit a special way. Finally! I understood Manhattan inside jokes about the Second Avenue subway line and shopping in Times Square!
Like, in one episode Lillian talks about moving into an apartment based on the fact that it'd be close to that line when it opened. So did we! Literal decades later, which is all you need to know about the MTA.
Also, as a marketer, I need to appreciate that there's a whole episode of SEO, and we don't talk about it enough.
Related: 7 Entrepreneurship Lessons from Unbreakable Kimmy Schmidt
15. Will and Grace
(Available on Hulu US)
Will & Grace, along with Friends, was one of the first shows for me to bingewatch. One of the first that I OWNED episodes of, and didn't need to end my watching of it when the channel started playing something else. I had the DVDs of Will & Grace, but with Friends, I had a season on VHS.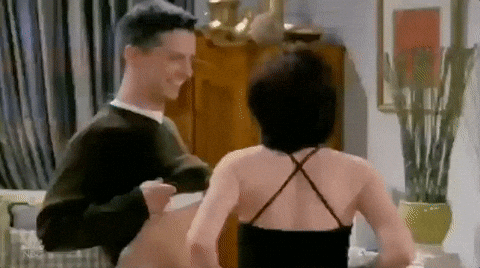 I haven't kept up with the revival of it, but only because I haven't needed to. The episodes of the old version are still chicken soup for my soul whenever I need a boost.
This show is the reason I knew how awesome Cher was early enough for a lifelong obsession to bloom. I will be forever grateful.
16. Frasier
(Available on Hulu US)
So one of the channels I used to catch Will & Grace reruns on in the early oughts would always play Frasier after. And not gonna lie, back then, as a teenager, I found the show pretentious, unfunny, and annoying.
But back then, I was also pretentious, unfunny and annoying.
Something made me rewatch it as an adult and it's become one of my favorite Insomnia watches, specifically.
17. Crazy-Ex Girlfriend
(Available on Netflix)
OH MY GOD, I don't know where I would be in life without Crazy Ex-Girlfriend, but I do know that the Work Brighter brand would be very different without the impact it's had on my understanding of mental illness.
Like Grace and Frankie, this has some heavier episodes, so when I'm watching TV specifically for comfort, I skip them.
But otherwise, there's buckets full of smart satire, amazing musical numbers and dances, and one of the most empathetic and well-done portrayals of mental illness I've ever seen on TV.
The ways I was able to see myself in and therefore better understand myself from Rebecca Bunch goes so far, to the point that we both go through a period of baking soft pretzels as an anxiety coping mechanism.
18. Sabrina the Teenaged Witch
(Available on Hulu)
Y'all Gen Zers can keep your Chilling Adventures. I'll keep my Melissa Joan-Hart.
I rewatch this show REGULARLY and between the nostalgia, the fanstasy and witchcraft, and the "awww, high school puppy love" of Sabrina and Harvey.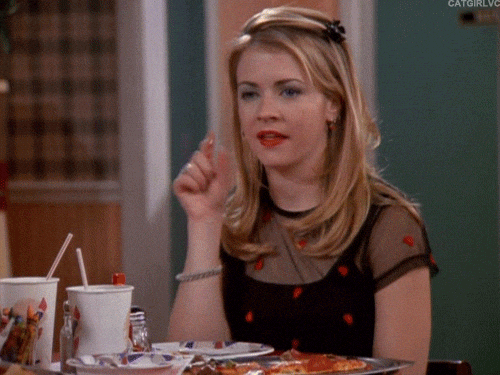 I don't know what it is about a specific kind of comfort TV, but this, Golden Girls, and I Love Lucy are all shows I like to watch when I wake up earlier than I'd like to and need to kill time before the world wakes up.
19. Cougar Town
(Available on Hulu)
Like Schitt's Creek, Cougar Town is a show I slept on for wayyy too long because of a bad show name. 🤣
It's not about cougars, it's about the best cul de sac of best friends ever. And it's the show that taught me that Busy Philipps needed to be my virtual best friend.
It's another pretty ridiculous show, where these friends like have their own language ("change approved!", and it's actually on in the background while I write this post.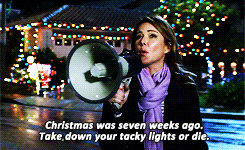 20. Happy Endings
(Available on Hulu)
Alright, we've talked about silliness. We've talked about best friends. We've talked about high joke densities.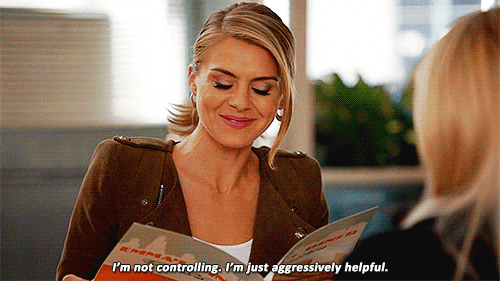 Those are all ramped up TO THE MAX in Happy Endings, which I'm still not over getting cancelled just months after I started watching it.
(To be fair, I'm not the only one.)
21. Don't Trust the B in Apartment 23
(Available on Hulu)
Happy Endings wasn't the only show that ABC basically set up to fail so they could justify cancelling it. Don't Trust the B* in Apartment 23 was the show that made up the other 30-minute block of that programming hour.
I didn't find it until Netflix a few years later, but it's a fantastic, satirical take on the "good rural girl moves to The Big City."
Plus, it was where James Van Der Beek went on Dancing With the Stars for the first time, and how he manifested the real thing to happen. 🤣
Whew! That's enough comfort TV for at least a few weeks of indoorsing.
Believe me, when you pick the right TV show when you're feeling too anxious to work or sleep or whatever, a quick binge does the trick. And any of these will do.
And if you liked this post, you might also like:
But before you go, if you like this, pin it: